FASHION DISTRICT AT QUEEN & SPADINA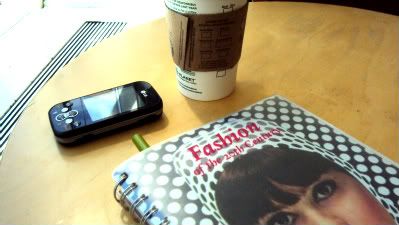 Sitting in Starbucks of Eaton Center, looking out the window- I was having myself Early Grey tea and thinking of the fabrics I were to buy today at the well known fashion district of Toronto in Queen st. and Spadina st.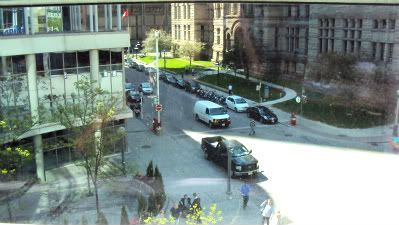 Today I am going to give you a review over each fabric store I step in (there might be 2-3 I have overlooked due to the time constraint I had, of having most stores closing at 6pm. So I will cover them next time I am down there!) This will hopefully help all those who have interest in pursuing their hobby or expand their resources in clothing making. The list I am about to show will be in order from the left side of the street starting right at queen and spadina intersection going down.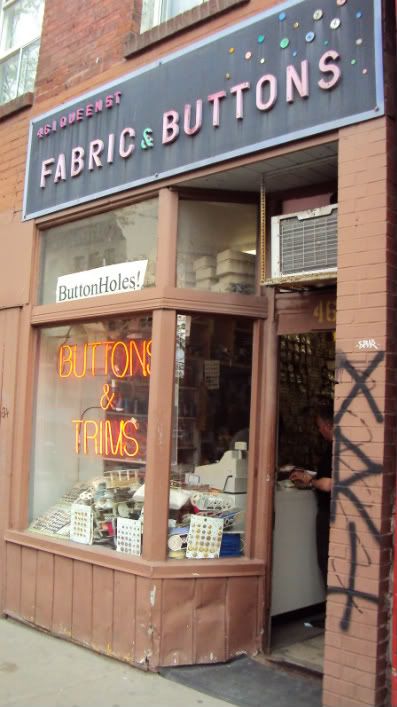 This place seriously has a lot of button selections- if you need buttons, they have many varieties. I know it says fabrics and trims, but i do not recall them having as much of that. Buttons are their specialty and there are more options then compared to the rest of the street. Although there is one other shop that comes second for options in buttons and trims. Prices are reasonable, if not fairly low.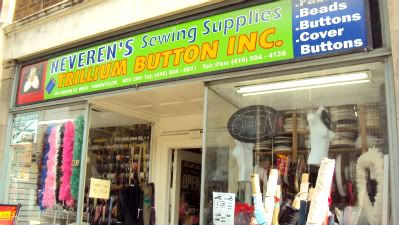 Trillium Button Inc. is just a few steps further down from Fabric & Buttons. They have a wide assortment of trims, buttons (although not as big of a selection as the first), and supplies for pattern drafting, judy's for fabric draping and fittings, pattern weights, steamer (domestic), and a few other specialties that I have noticed other stores do not carry- unless you venture further into other locations of Toronto- which i will talk about next time. Prices are fair, you also have to consider the convenience of being able to find certain items here you otherwise need to go elsewhere for.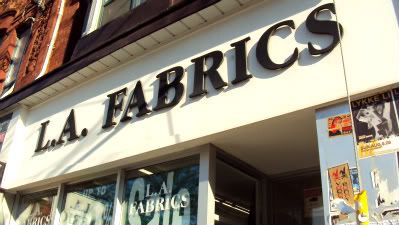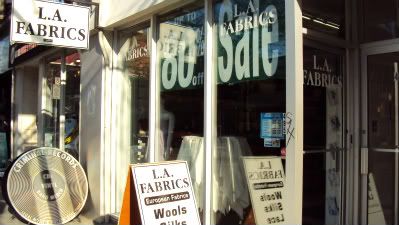 L.A. Fabrics specializes in wool, silks, and laces (with a few selections of sequenced/embellished fabrics) They tend to post little magazine fashion cut outs of the outfits as presented, and pin them onto the similar fabric that is being sold to illustrate an example or idea of how some of the products they hold could be used for. It is likely due to the fair portion of students that shop down in queen and spadina that they have lowered their price ranges, so as you progress to the back of the store- there is a good amount of wool and silks that go from $10.00 to $16.00 per meter. Their price range has both high and low, with the front of the store being more expensive- they can be up to $40.00 a meter to as little as $10.00 a meter. Overall a good place to look at if you are planning to create some suits.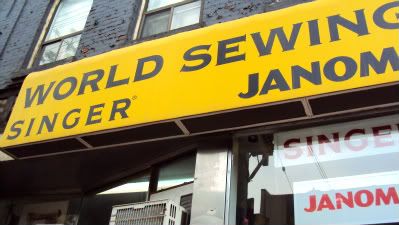 World Sewing Inc. Has a good variety of synthetic materials, odds and ends for trims, zippers and beads, materials for bra making, a good variety of elastics for bathing suit/lingerie/activewear. They also have a good selection of fusings (the material use for reinforcing or strengthening a fabric- not ideal for changing the original behaviour of the fabric, but more so adding extra strength- in areas such as collars, cuffs, and waist bands of skirts or pants) for both knit and non stretch fabrics.
Available in both black and white, possibly tan. Their fusings also come in a variety of thickness, so corset making would be a good example of what it could be used for. They have a good variety of mesh and lace fabric- both for sportswear like jerseys or lingerie. Pricing is fairly low, and affordable.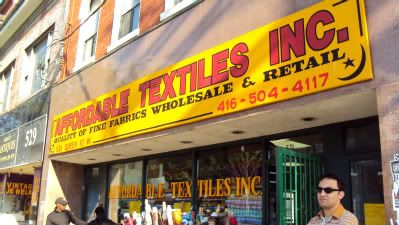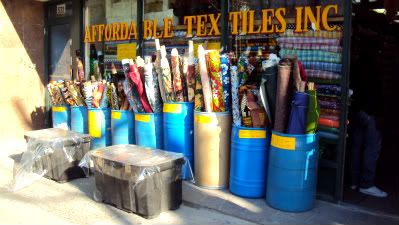 I HAVE TO SAY. This is one of my most favourite places to shop for fabric!!! They have a very interesting variety of fabrics, from synthetic to actual satin/silk materials. I mostly praise them in their good variety of denim, cotton, and knit fabrics- as well as interesting types like pvc, wetlook, metallic, double weaves- with a bit of apholstery fabric in the back. They usually have two bin fulls of serging thread, which can be substituted for sewing thread- unless your sewing something that needs a more specific content to suit the purpose of the fabric. it is either $1.00 each thread roll, or 3 for $1.00. Either way, it is still a great bargain. They have bright colors, and a wide assortment of it too!
There is a sales lady inside, and her name is Susan. If you ever need help- she is very kind and will dedicate her time to finding the right fabric it is you needed to make your project. Let her know that Diana (which is my actual name) has referred you to shop there- and she MIGHT just give you some discount! ;)
That is all for now for fabrics- I will continue onto the other side of the street in the near future to continue my reviews for Toronto's fashion district! I hope you found this helpful.