BARBIE DOLL SHOES
So what is a girl to do if she falls in love with three, THREE pairs of shoes- and cannot for the life of her choose one over the other to buy???
The other night I was surfing online to see what sort of funky shoes I could find, and discovered the awesomeness of jelly heels. Lately i've been into the more creative and louder styles...
I've been brainstorming on creating a more updated look for myself, and so i've come up with an idea of how I wanted to put it all together. There isn't a mood board that i've created from Polyvore yet but the description pretty much goes something like this:
Punk meets glam meets funky meets rockabilly meets rockstar meets business women meets hair-so-perfect-it-must-be-a-wig meets borderline mannequin.
This might sound crazy and hard to conceive, but it WILL be done. Because I like to incorporate class into my tastes :) What better way to start off any wardrobe, then to have fun exciting shoes? Being a clothing designer, I had decided to swear off buying clothes as much as I possibly can- and only purchase things that I cannot create myself. I want to start wearing my own designs so I can better reflect the alter ego of Veruca Cyn.)
Growing up as a child, I always used to play with dolls- especially barbie dolls. What I liked most about them was the options to change into any type of clothing, hairstyle, and shoes! I would use my endless strands of multi colored lace and ribbons and drape them around the body to create new dresses and body suits and never grew tired of doing this. So unlike most kids (I imagine) Instead of dressing them up, I spent most of my time "creating" dresses on the dolls. Makes sense why i'm a clothing designer now huh?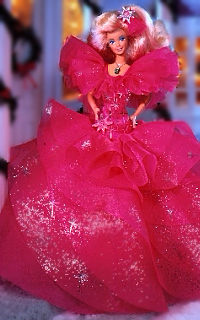 Yes, my very first and only barbie was 1990's Holiday Barbie.
Before I tell you about the three shoes I bought, I want to ask if you remember those plastic little shoes that fit barbie? My parents bought me ones from the Dollar Shop as a kid, and they contained a dozen pairs of different types of shoes, heels, boots, sneakers!!!
What did they all have in common? they were colored rubber/plastic :) So I felt in order to fulfill my quest of looking like a "
Punk meets glam meets funky meets rockabilly meets rockstar meets business women meets hair-so-perfect-it-must-be-a-wig meets borderline mannequin."
I will need rubber shoes that look like the ones Barbie would wear!!!
photo by Ruthie Davis
I caved in today after sleeping on it, and got three pairs of sexylicious jelly heels. The first shoe is an all black SEAMLESS, yes i repeat- SEAMLESS pair of ankle booties made of rubber, heels about 3 inches which I lovvveee so much. I have been looking around for a smooth seamless ankle bootie heel for the longest time, and stumbled upon one which was so beautiful- only that it cost way beyond my "self indulgent" spending budget. Despite that cost- it still wasn't exactly as seamless as this, the other one had one of those stretch elastics on the inner part of the ankle so you can slip in. So overall this was a nice find.
The second pair (Black ankle strap low open toe heel with heart) is a Vivienne Westwood rubber heel, as it has a lower heel and arch, which is perfect for walking around in. The perfect shoe to wear in the summer with jeans, or even a skirt or dress- it will doll up any outfit worn.
Last pair are these hot pink fuschia pair of open toed heels with a cut little shiny rubber bow tie on top! *glee* These pair immediately reminded me of barbie shoes, and considering how my wardrobe consists of 99% black, having this new addition will be a fun way of adding a splash of color to my everyday look.